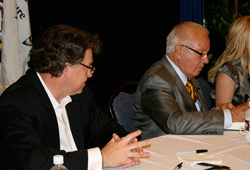 MARKSVILLE, La.,(July 28, 2011) – Former Louisiana Governor Edwin Edwards and Leo Honeycutt, author of Edwards biography, held a book signing at Paragon Casino Resort in Marksville on Tuesday, August 9th at 6:30 p.m. The book signing took place in the ballroom of the Earl J. Barbry, Sr. Conference Center.
Edwin Washington Edwards (born August 7, 1927 in
Avoyelles Parish
, near
Marksville
) served as the
Governor of Louisiana
for four terms (1972–1980, 1984–1988 and 1992–1996), twice as many terms as any other
Louisiana
chief executive has served. He graduated from Marksville High School in 1944 and from LSU law school with an LLB-later converted to a Doctor of Laws-in January of 1949. He began the practice of law in Crowley in 1949. In April of 1949 he married Marksville native Elaine Schwartzenburg. They are parents of 4 children, 12 grandchildren and 10 great-grandchildren.
In 2005, Mr. Honeycutt was selected by Governor Edwards as his official biographer. After five years of exhaustive research and face-to-face interviews with Edwards, Edwin Edwards: Governor of Louisiana, An Authorized Biography by Leo Honeycutt was published in December 2009, becoming an instant bestseller with 10,000 sold in the first three days mostly in Baton Rouge. Twenty thousand sold within two weeks across Louisiana with orders for 25,000 more in January 2010. Governor Edwards chose Mr. Honeycutt after publication of Honeycutt's acclaimed novel, Over the Edge.
The book signing was free and open to the public, and was hosted by Paragon Casino Resort and the Marksville Lions Club.
{gallery}photo_gallery/edwin_edwards_book_signing{/gallery}